Growing Along With Your Kid!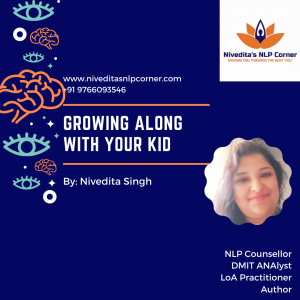 "Strange is the world when we are new to it,
Everything is a mystery and we care for each bit;
With years comes learning and experience
Filtering and absorbing is essentially an individual stint.
Wisdom and knowledge can strengthen and make our existence louder,
Need is to keep growing to be intellectually smarter;
Ensure that evolution and learning stops never,
You learn from a child, friend, teacher, colleague or an influencer.
But remember:
Whatever comes from the environment passes first through your own filter,
As you have to be and are always your own best teacher!"
I have penned down the above lines to reflect the need of respecting individuality of every human being. Usually as parents, we try to see a lineage in our kids and want them to be in certain (our) way. However when we start focusing on empowering them instead of filling them with our thoughts and beliefs, we grow stronger bond with them.
Ultimately children develop their own sense of understanding and perceptions even when they are loaded by some parents with guidance and information. To help them in the process, it is better to be their companion than a teacher. When we take this approach, it becomes easier to accept the way they grow. Positives and negatives together make a person and this approach helps us accept the individual personality of a child.
This does not mean that the negative behaviour is encouraged, rather engaging them in conversation about the negatives develops their understanding. The moment self-realization happens, correction in negative development (if any) is quick and permanent.
The lines above are also true for grown up individuals including parents. We are constantly on the path of learning and thus should be open to learn new and probably better approach to life even if it comes from our little ones.
Conscious parenting in today's times is all about respecting the child as an individual and growing together with them. It also encompasses the need to develop a child cognitively and helping them in forming their own filters or lenses through which they review the world and view life. In the process, however, do not forget that no one is perfect and thus all of us need to acknowledge the relevance on continual learning and growth.