The Three R Approach to Making Life Wonderful!
There are many people around us who may seem to be sad or not in a very good mental condition many times. They feel burdened by things happening in their life and develop a gap in accepting events as they are. This leads to depression and can vary in its degree from being mild as silent weeping to severe where a person may even think about putting an end to life; as a solution to keep away from the problems which are experienced.
The vicious cycle of these negative emotions and thoughts can turn up very perilous, if not taken care at the right time. I have been stressing on the point of making our life wonderful by simply changing the way we look at it. Thus today I am sharing a 3R Approach which has been personally devised by me to make the understanding simpler:
"REVISE YOUR REPENTANCE TO REWARD"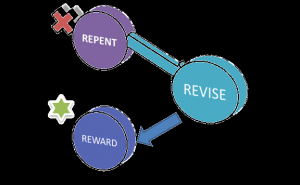 This is a very simple yet effective technique of replacing negative thoughts with positive ones. Whenever one feels bad in a situation, an immediate blame game begins. Sometimes one may blame the Almighty for designing his life this way, sometimes it may be a blame on self for landing up oneself in a particular situation. He above techniques talks about revising our approach and trying to figure out the good hidden in that same situation which is trying to cause sorrow to us. For instance, if you are hurt and in pain, you can still be thankful for the fact that you are alive (Life is a reward). If you think your parents restrict you in many ways, be thankful that you atleast have them around as yet another reward.
The above is one approach to understanding the 3R technique. The other aspect of this is more personal and innate. When we unknowingly grow dissatisfaction from things that we have not been able to do, it is very useful to reverse this and acknowledge all that we have done. A very simple example is that when you have a list of things to do in a single day and at the end of the day we realize that not all of the have been done, we immediately become sad and depressed. However, we can just be happy about all that we did complete in the day and regain enthusiasm to complete the others later.
Keeping oneself positive is imperative if one wants to work towards and achieve dreams. This can only be done if we learn to spend time rewarding our achievements to regain our resources (potential of mind) to work on other pending or new things in a similar fashion.
So keep enjoying life and rewarding yourself!!